KIERA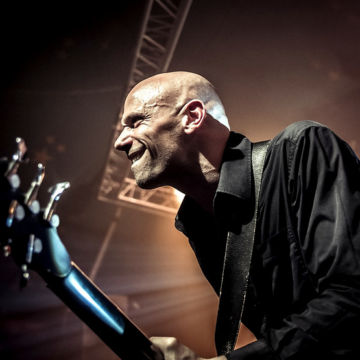 Biography
Ludovic T. Kierasinski [aka. KIERA] est un musicien poly-instrumentiste, compositeur, producteur, réalisateur et sound-designer.
Réalisateur et bassiste du groupe ANAKRONIC [Electro Orkestra], il compose et arrange pour le théâtre et le cirque ainsi que pour VIGIL, groupe de pop-electro dont il est le fondateur. Ses études de musicologie et ses expériences de violoniste d'orchestre, de guitariste puis bassiste, lui ont permis d'acquérir une très large palette stylistique et de composer des pièces allant de la musique symphonique à l'electro minimaliste, du métal industriel au pop-rock ou de la musique traditionnelle au jazz expérimental.
C'est sous le nom de KIERA qu'il produit et joue une musique électronique puissante et riche ou la danse et la transe s'impose.
Ludovic T. Kierasinski [aka. KIERA] is a poly-instrumentalist, composer, producer, director and sound-designer.
Producer and bassist of ANAKRONIC [Electro Orkestra], he composes and arranges for theater and circus as well as for VIGIL, electro-pop music band, of which he is the founder. His studies in musicology and his experiences as an orchestral violinist, guitarist and bassist allowed him to acquire a very wide range of stylistics allowing him to compose pieces ranging from symphonic music to minimalist electro, from industrial metal to pop-rock or from traditional music to experimental jazz.
It's under the name of KIERA that he produces and plays a rich and powerful electronic music where dance and trance imposes itself.
Discography